USPTO Climate Change Pilot Program's Debut Is Uneven
Originally published on Law360

Julie Burke, Ph.D.

Michael Spector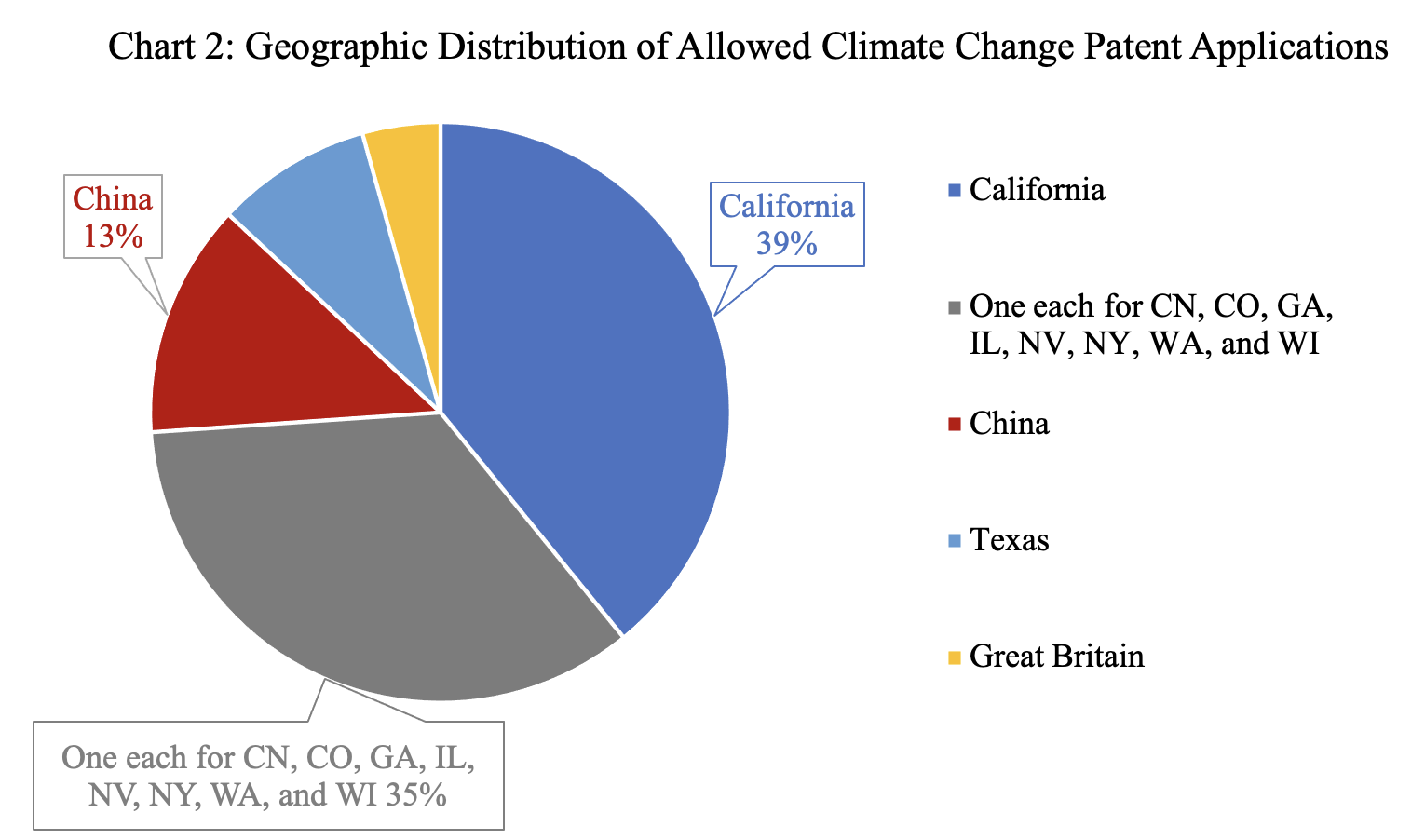 California innovators have been quick to use the U.S. Patent and Trademark Office's Climate Change Mitigation Pilot Program[1] to accelerate examination of U.S. patent filings.
And for good reason: Initial USPTO data shows that the program is a rapid and effective way to obtain patent rights in the climate change technology space. But, if you're interested, act fast because it may be ending soon.
The USPTO created the climate change program[2] in June 2022 to provide a low-cost pathway for applicants to accelerate the patent process for inventions that reduce greenhouse gas emissions. Applicants can participate by filing a no-fee climate change program petition that is available on the USPTO website.
To date, the USPTO has granted 206 of the 307, or 67%, climate change program petitions received in patent utility applications.
Focusing on the 74 publicly available petition decisions, 24% of all climate change program decisions, we identified emerging outcomes for applications to the program.
First, the data shows climate change program petitions are quickly decided — within 58 days on average — with a favorable 72% grant rate.
Once the petitions are granted, applications are also quickly docketed to examiners for search and examination. To date, 42 climate change program applications, or 80%, received accelerated examination, obtaining a first office action within 67 days on average of the petition grant date.
This pace is similar to Track One Prioritized Examination's two-month pendency from petition grant date to first office action. Overall, climate change program examination pendency averaged 201 days, as compared to 480 days pendency for non-expedited examination.[3]
Second, from this small survey, patent examiners appear to be working to identify allowable subject matter in climate change program applications.
In 40% of the examined applications, allowable subject matter was identified in the first office action. Furthermore, 43% of the climate change program applications had already received a notice of allowance within 198 days of filing, on average.
The only catch is the climate change program window of opportunity closes on June 5, or earlier if the upper cap of 1,000 grantable petitions is met. With only 206 granted petitions so far, it is unlikely the cap will be reached before the June 5 deadline.
The pricey Track One Prioritized Examination program, which is not bound to any particular technological subject matter, has received 7,090 requests since October 2022.[4]
In contrast, the fee-free climate change program appears underutilized, perhaps because applicants are less familiar with the petition process and its potential benefits.
Beneficiaries of the Climate Change Program
As illustrated in Chart 1, 36% of the applications with granted climate change program petitions originate in California, 22% originate in China, and the remainder originate in other states or countries.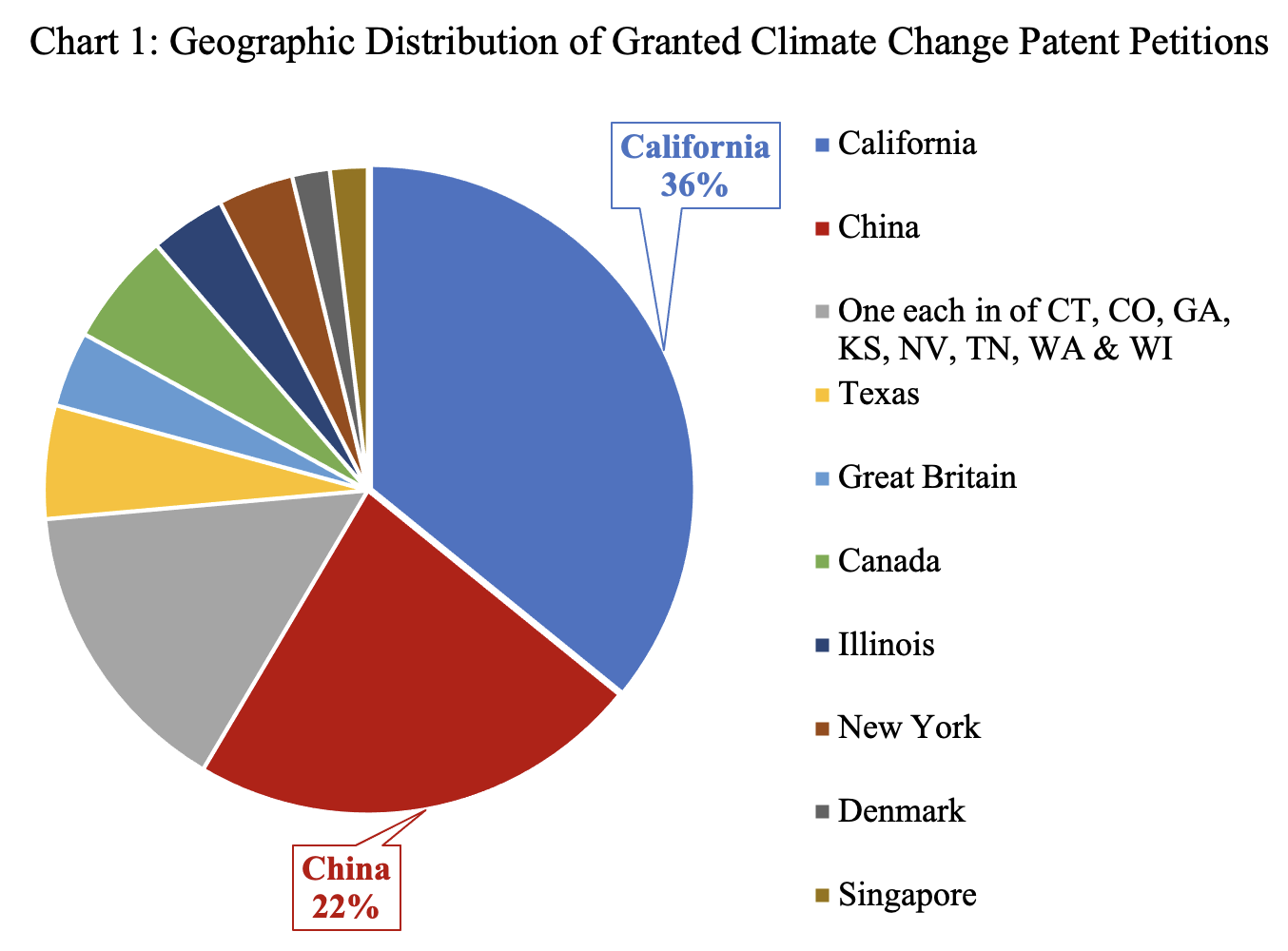 California's climate change program applications represent a wide diversity of applicants and inventors: 63% large entity status, 32% small entity status and 5% micro entity status.
The inventions are also broadly inclusive of various technology industry sectors: 53% chemical, 21% electrical and 26% mechanical.
Fourteen of the 20 foreign originating climate change program applications are directed to wind power, a technological area already dominated by China.[5]
The vast majority, 93%, of the wind power applications are filed by Bayes PLLC, representing a small group of Chinese companies.
Recently, the Senate Judiciary Committee met to discuss foreign competitive threats to American innovation and economic leadership.[6]
Any program that expedites further foreign technological advances in the wind power sector merits close scrutiny.
Chart 2 shows California innovators are leading the way with 39% of all allowed climate change patent applications: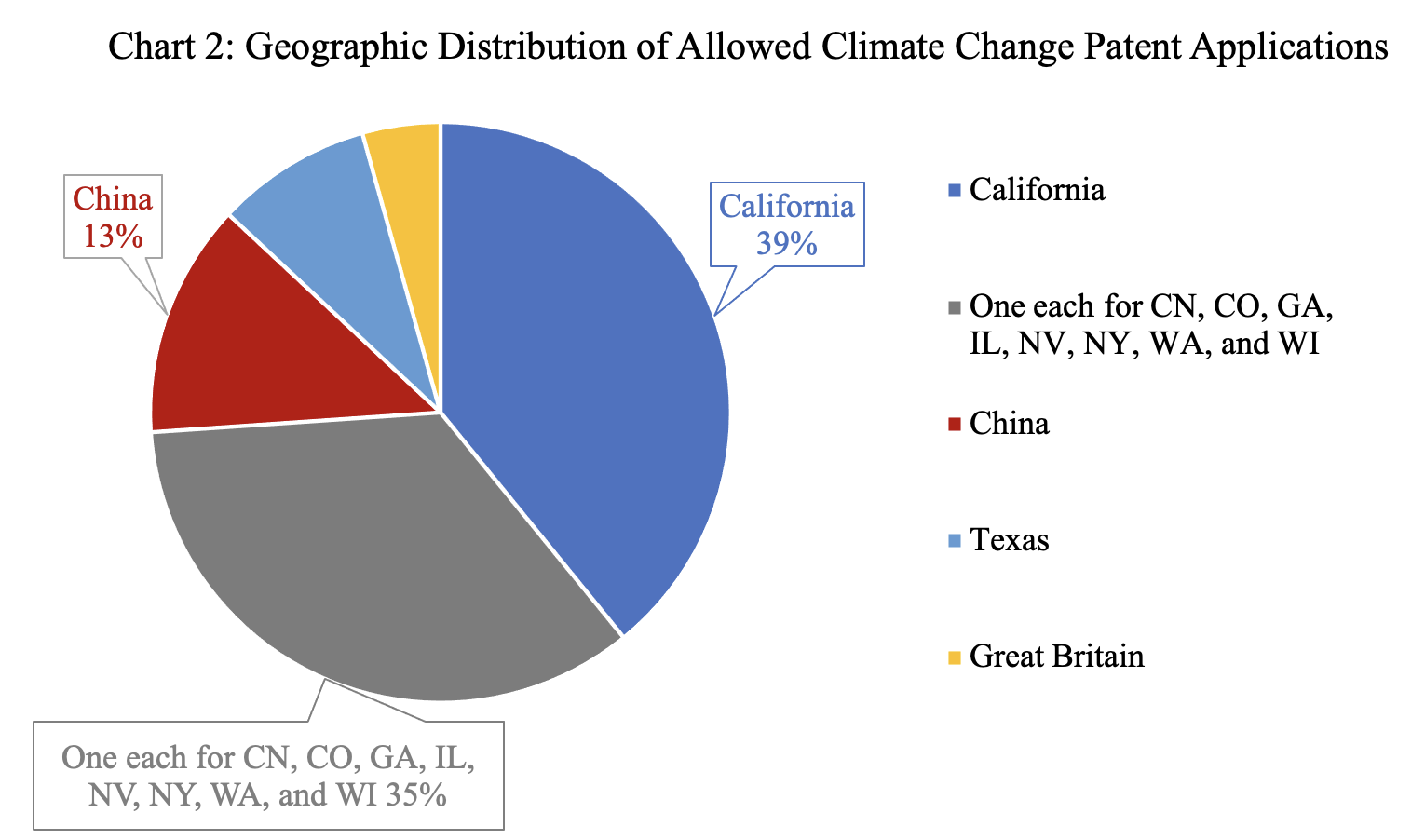 California's large proportion of climate change program patent applications speaks to its continued technological edge: If considered as its own country, California is poised to become the world's fourth-biggest economy.[7]
How The USPTO Can Promote More Inclusion
Emerging results indicate the climate change patent program is falling short of the expected 1,000 applications. The USPTO extended the Green Technology Pilot Program[8] several times in order to meet its 3,500 cap prior to retirement in 2012.
Given the success of the climate change program so far, the USPTO should extend the deadline to encourage more participation.
Surprisingly, only five of the nation's top 50 law firms,[9] ranked based on number of patents issued annually, have participated in the climate change program, accounting collectively for 10, or 14%, of the surveyed climate change program petitions.
The USPTO's requirement to file the specification, claims and abstract using DOCX format is one reason why savvy IP practitioners may be avoiding the climate change pilot program.
In fact, in 15 of the 22 dismissed climate change pilot program decisions, application papers were not filed using DOCX. Initial concerns over the DOCX requirement are ongoing.[10]
Widespread alarm[11] over substance and format errors and very real concerns over the professional liability issues[12] with the DOCX system have discouraged applicants from filing nonexpedited applications in DOCX format. Prompted by patent practitioners' outcry, the USPTO has once again postponed[13] the effective date for the surcharge for applications not filed in the DOCX format, this time to June 30.
By extending the climate change program and dropping the DOCX filing requirements, the USPTO can encourage inclusive innovation in the climate change space and promote beneficial sharing gained by early participants in the climate change program bandwagon.
---
[1] USPTO Climate Change Mitigation Pilot Program available at https://www.uspto.gov/patents/laws/patent-related-notices/climate-change-mitigation-pilot-program.
[2] Federal Register Patent and Trademark Office Climate Change Mitigation Pilot Program Vol. 87, No. 107 33750-33753 June 3, 2022, available at https://www.govinfo.gov/content/pkg/FR-2022-06-03/pdf/2022-11930.pdf.
[3] USPTO patent pendency data available at https://www.uspto.gov/dashboard/patents/pendency.html.
[4] USPTO Patent Track One Data available at https://www.uspto.gov/dashboard/patents/track-one.html.
[5]Jill Ambrose "China leads world's biggest increase in wind power capacity." The Guardian 10 March 2021 available at https://www.theguardian.com/business/2021/mar/10/china-leads-world-increase-wind-power-capacity-windfarms.
[6] Senator Coons chairs Judiciary IP Subcommittee hearing on foreign threats to U.S. innovation and economy. April 18, 2023, available at https://www.coons.senate.gov/news/press-releases/video-senator-coons-chairs-judiciary-ip-subcommittee-hearing-on-foreign-threats-to-us-innovation-and-economy.
[7] Office of the Gov. Gavin Newsom. ICYMI: California poised to become the world's 4th biggest economy. October 24, 2023, available at https://www.gov.ca.gov/2022/10/24/icymi-california-poised-to-become-worlds-4th-biggest-economy/.
[8] USPTO Green Technology Pilot Program available at https://www.uspto.gov/patents/initiatives/green-technology-pilot-program-closed.
[9] Patent Bots Law Firms by Number of Issued Patents available at https://www.patentbots.com/patentverse/law-firm.
[10] Julie Burke. DOCX Plan Risks Patent Quality and USPTO Should Reverse It. LAW360 August 8, 2022, available at https://www.law360.com/articles/1518880/docx-plan-risks- patent-quality-and-uspto-should-reverse-it.
[11] Letter signed by 117 Patent Professionals dated December 23, 2022, available at https://blog.oppedahl.com/wp-content/uploads/2022/12/20221223-to-Vidal.pdf.
[12] Professional Liability Risks of Filing in DOCX available at https://blog.oppedahl.com/?page_id=9354.
[13] USPTO Patent Alert. USPTO to delay the effective date of the non-DOCX filing fee, available at https://www.uspto.gov/subscription-center/2023/uspto-delay-effective-date-non-docx-filing-fee#:~:text=Through%20a%20new%20final%20rule,have%20received%20throughout%20this%20process.